Australia Feels The Force: When Star Wars Fever Hit Oz In 1977 //
A long time ago – 40 years, to be precise – in Australia (back then considered by many to essentially be a galaxy far, far away), a modestly-budgeted science-fiction movie that film studio 20th Century Fox initially had little faith in, opened in cinemas across our fair land. Impressionable young minds were duly shaped and a generation of lifelong fans were born, enthralled by the rich, fantastical story world that sprang from the mind of writer-director George Lucas, then a fresh 32-years-old when his space opera was unleashed on an unsuspecting public.
By the time Star Wars hit Australia, it had already become a pop culture phenomenon: opening in the US on 25 May, 1977 and subsequently breaking box office records (adjusted for ticket price inflation, it's currently the second highest grossing film of all time), it took a further five months until it reached our shores on 27 October – a standard time period back then that Australian audiences had to endure while waiting for the latest Hollywood film to be available for local audiences.
In the pre-internet and social media era of the' 70s, news of Star Wars was slow to trickle Down Under: besides the odd interview or ad in newspapers or magazines and trailers shown in cinemas, there wasn't much to tip filmgoers off to the imminent arrival of the movie, save for the novelisation Star Wars: From the Adventures of Luke Skywalker (credited to George Lucas, but ghostwritten by Alan Dean Foster). The book was peppered with scenes and details that don't appear in the final film, and it arrived months before the film's actual release – something that would have zero chance of happening in this spoiler-wary day and age.
Hard as it may be to believe, the film actually debuted in Oz with little fanfare, as recounted in a review of the film published in The Australian on 29 October, 1977 (reviewer Geraldine Pascall declaring herself "delighted with its visual originality and marvellous sense of parody").

A review published in The Sydney Morning Herald on the film's opening day in Australia proved to be far less complimentary, save for reviewer Helen Frizell being a fan of Chewbacca and his resemblance to an "Australian terrier", as well as the "extraordinary" and groundbreaking special effects. We get it, the film was not your cup of blue milk Helen, and since that review, millions of people have disagreed with you.

A look back at the film's premiere on 15 December, 1977 in Newcastle, NSW in The Newcastle Herald reveals that movie tickets were then a scant $3.50 (and choc tops a bargain basement 90c), with reviewer Allan Watkins calling the film "derring-do from take-off to touch-down".

And although there's little evidence of it online, an extremely fresh-faced and spritely Mark Hamill made it to Australia to promote the film in October 1977, as seen in a rare interview filmed at the Sydney Opera House by the Australian Broadcasting Corporation. Our favourite parts? Hamill talking about "robots being pulled up mountains on the backs of donkeys" and the interviewer enquiring if there are "men inside these robots, or are they all mechanically operated?"
While in Melbourne on his Aussie promotional tour, Hamill also made an appearance on The Don Lane Show on 17 October, 1977. Although the clip isn't currently available for public viewing, we've seen the footage and can offer the following report:

• Host Don Lane raves about the film before a youthful and self-effacing Mark Hamill comes out to thoroughly charm the socks off the audience.
• Hamill says Harrison Ford gets all the funny lines in the movie, whereas his character Luke Skywalker is a naive kid who gets to say things like, "Golly, they followed us!"
• Hamill's parents told him they hated science-fiction and only went to see Star Wars because he was in it.
• Hamill's 83-year-old grandfather saw Star Wars five times; his 80-year-old grandmother saw it three times. According to Hamill, the only thing his grandfather didn't like about Star Wars was the fact Luke Skywalker didn't get to "marry the princess in the end" ("I said 'hang around for the sequel, who knows!'" jokes Hamill).
• Lane and Hamill introduce a line-up of Star Wars action figures and face masks. When Lane tries on a Chewbacca mask, Hamill gives him a brief kiss on his Wookiee lips. It's a touching moment.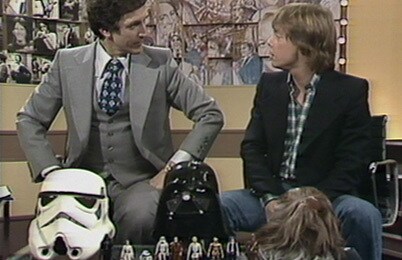 Image: The Don Lane Show/Nine Network Australia

With the arrival of the mega-selling Star Wars toys and a run in Australian cinemas that stretched all the way up until 1982 – an unheard of proposition in the current "get 'em in, get 'em out" world of the modern multiplex - Star Wars went on to make $AUD18,314,881* at the Australian box office. Adjusted for inflation, that's a whopping $AUD86.4 million. If money is all that you love, Star Wars, then that's what you'll receive.
It would be remiss not to mention one very important Australian Star Wars connection, too: the film features one solitary Aussie actor in the form of Peter Sumner, who sadly died in late-2016. Sumner appeared as Imperial Lieutenant Pol Treidum (as well as appearing on TV's Play School, trivia fans), the character delivering the iconic lines "TK-421, why aren't you at your post? TK-421, do you copy?" before getting hurled across a control room like a rag doll by an enraged Chewbacca.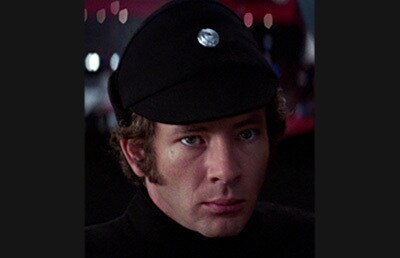 To get a clearer picture of just what it was like to see Star Wars for the very first time at an Australian cinema in 1977, we spoke to three superfans whose cherished memories of the film are just as vivid 40 years on from their first mindblowing visit to that galaxy far, far away...

Chris Brennan: Director of fan club Star Walking Inc. //
I was 10 in October '77, and all the guys at school were talking about this new movie coming out that had real robots in it. I saw a few newspaper ads, and I'd take them to school to show all the guys and say, "look at this! It's coming!" Our science class would all talk about Star Wars. It was the science nerds who were getting together to go out and see it!
We went to the Hoyts cinema centre in Melbourne and were primarily excited to see these "real robots" - that was the drawcard. I think we took a day off school to see it, which we weren't supposed to do. Science class would've been quiet that day, I can tell you - we were all at the cinema.
The lights went down, the fanfare came up and then that Star Destroyer… I think it was the sound that hooked us in to start with. Then Threepio and Artoo appeared, and we were like, "Oh my god! Robots!" Then we tried to figure out how they made Threepio move. The guys were like, "Well, there'd be servos there", and then "I dunno if that'd work, he'd fall over!" We were geeking out over the science side of it.
I was probably more blown away by the storyline than the other guys were. I had to save up enough pocket money, then went and saw it again two weeks later. All up I saw it at the cinema 23 times over the course of a year. These days the DVD or a digital download of a film comes out not long after the cinema release, but back then if you didn't go and see it in a cinema, you didn't see the movie! You took every chance you had to see it.
Back then it didn't seem like it was going to be such a massive deal, but once the action figures arrived a few months later you could tell there was a bit more to it and that it wasn't just another movie. My mum actually put an R2-D2 action figure on top of my birthday cake - I still have it, and he still has chocolate icing in his feet. That started the ball rolling with collectibles for me - now I have thousands of items. One of my rarest is a cardboard cut-out of Darth Vader used to promote the Star Wars novelisation that came out before the movie. I grabbed it from a newsagency in 1979. As far as I know, it's the only one of its kind in the world.
Ninety per cent of the people I know now I wouldn't know if it wasn't for Star Wars. These are people who are really great friends, the kind of people who'd throw themselves in front of a bus to save you. The film has literally changed my life. It's a hobby that's taken me around the world and put me in contact with a lot of famous people associated with the film and has given me opportunities that would've never come my way otherwise. We owe George Lucas quite a lot.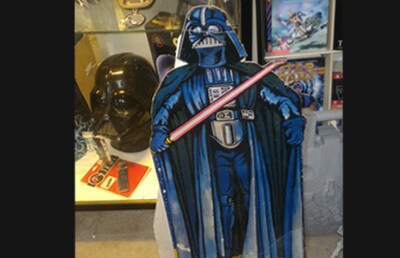 Will McGowan //
My grandmother took myself and some siblings to see Star Wars in December '77 when I was seven years old. We went in pretty cold - nothing like today with trailers and all that sort of stuff. It was the best way to do it, and as a kid the movie was just jaw-dropping, from the first moment the Star Destroyer came in at the top of the screen with the sound and the music. I'd never had an experience like that in a cinema, and really haven't had one since. I was obsessed from that time on.
I didn't see it a second time at the cinema, but I have a memory of our family driving down the coast in the car in January '78 and seeing a glimpse of it on a drive-in cinema screen in the distance. I could see Han and Chewie in the cockpit of the Millennium Falcon on this huge outdoor screen - I can remember that vividly.
That summer the action figures hadn't yet arrived, but they had Star Wars jigsaw puzzles and a board game and icy poles available, and I collected those things. Wheaties also gave away 12 Star Wars posters in their cereal boxes, and I remember one friend had all of the posters up on his wall above his bed - I was very jealous at the time!
I still have a lot of my original Star Wars action figures, which are mostly destroyed, but I wouldn't trade them for the world. I also have a landspeeder, which was my only vehicle as a kid and was given to me by my late aunt when I was 8, so that's a real treasure. I also collected all of the icy pole boxes and wrappers and cereal boxes, that kind of stuff. The collecting eventually led me to start my own business buying and selling vintage toys called I Had That!
At school, Star Wars was huge - I remember lots of kids running around trying to be Han Solo, shooting stormtroopers. I was drawing X-wings getting chased by TIE fighters across the top of my school notebooks.
I think Star Wars is still my favourite film after all these years. It was the innocence of it - it had such a pure heart. George Lucas was trying to give my generation the experience he had watching Flash Gordon serials when he was younger, and he totally succeeded. It was the perfect piece of entertainment at the perfect time. The part where Luke looks to the twin suns setting on Tatooine is still one of my favourite scenes ever in cinema, and is incredibly evocative of a happy childhood for me.
Darren Maxwell //
I was 10 years old and in primary school in '77 and wasn't a science-fiction fan at all. My best mate told me he'd seen this new movie with his mum called Star Wars, and he was raving about it. I was very ambivalent about it, but then all the other kids at school started saying the same thing. I asked my mum to take me, so we went into the city one day to get some tickets and all of the screenings were sold out. We eventually got into a screening, and because they were trying to pump through as many screenings as they could in a day, there were no ads, no trailers - the lights just went off, the curtains opened and the movie started – bang!
What struck me most was the opening crawl and the ship flying in from overhead - it just blew me away.
By the time I went back to school after the weekend we'd all seen it, and suddenly we were all Star Wars experts - or so we thought. At the time there were no magazines or action figures or anything to spark our memories, so we were all just trying to remember the film the best we could. We'd talk about how they made it, and whether they used real aliens or not. We started coming up with our own stories and writing comics, some of which I've still got. Soon we were playing Star Wars games at school, with some of us being rebels and some of us being Imperials. All we'd do is shoot each other - "peow peow peow!" It just took over, and whenever we could get back to the cinema to watch the film again, we would.
I saw it a total of six times back then. It was like an obsession, and you'd get withdrawal symptoms. I'd want to remember certain bits, so I'd think "I'll see it this time to just concentrate on the lightsaber duel." Slowly the magazine and souvenir booklets came out, and we just tried to learn everything we could about the film. I eventually got the 'Escape From Death Star' board game, and we couldn't play that enough - owning it was a big deal.
In art class at school we all started making little X-wings and TIE fighters. The film was a constant topic of conversation. I remember two kids in the playground arguing over whether or not Chewbacca was a real alien - there was a rumour going around that they used real aliens from outer space. So one kid says, "He's not an alien!" and the other kid says, "Yes he is - did you see any zippers?" The other kid goes "No I didn't… he's a real alien!!!" We all believed it, too. We'd always get stuff wrong - for ages I'd misheard 'Darth Vader' and thought he was called 'Earth Raider'! It was a good time to be a fan because we were basically the target audience, being 10 years old.
As time went by, a lot of people's fandom dropped off, but mine didn't - if anything, it increased. I've now been to Skywalker Ranch, and as part of the Star Walking fan club we've run Star Wars conventions and panels. The best part about it, though, is the people you meet and the friends you make. You can talk about Star Wars with them as much as you want, and they'll always get what you're saying!
James Jennings is the editor of Empire magazine Australasia, a writer (Rolling Stone Australia, screenplays, various illegible handwritten notes), presenter and Star Wars fan who takes great pleasure in using his Han Solo in Carbonite bottle opener. Find him on Twitter @JJTron2000, Facebook or at www.jamesjennings.info

More Star Wars Australia + New Zealand //