Australian Star Wars Collectors: Mick Pylak //
The Force is strong with Sydney Star Wars collector Mick "Fett" Pylak in more ways than one: not only has he amassed what may be the largest collection of Star Wars memorabilia in Australia, he works with another kind of force - the police. We caught up with Mick to hear about his incredible collection, the few times he got to meet the legendary Carrie Fisher and why Jawas in vinyl capes are a very special thing indeed...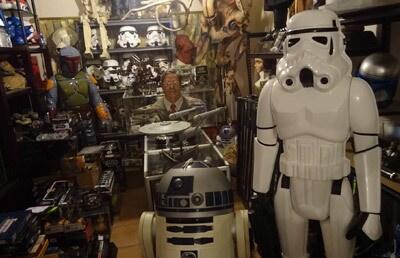 What's your first Star Wars-related memory?
My dad taking me to see Return of the Jedi at the cinema in 1983. After that I started getting all the toys, and a lot were for characters I didn't know – like the Wampa and the Tauntaun from The Empire Strikes Back, which I hadn't seen – I remember thinking "What's this?"
I saw The Empire Strikes Back last of all and didn't like it as much as the others because the Millennium Falcon didn't work properly, Han Solo gets frozen in carbonite, Luke gets his hand chopped off... [laughs] So Jedi with the Ewoks beating the stormtroopers was my favourite from back then.
Did you have a big collection of Star Wars toys then?
I had an average amount of action figures, and I'd look at the catalogues and see things like the Rancor and the Millennium Falcon, but I never had those. When I'd play with them back then I'd get blankets and spread them out, and that'd be like terrain for the characters to fight on. Boba Fett was always my favourite because he had the jet pack and he could fly around and shoot everyone [laughs].
Did the passion for collecting stay with you?
I amassed a decent amount of figures but by the time I got to high school I gave up toys altogether – I remember selling all my Star Wars toys at a garage sale. I sold my entire collection for $20, which is now one of my biggest regrets ever. It wasn't until 1996 when they announced the Star Wars Special Editions that my interest came back. I saw the new Hasbro figures in a supermarket and bought a few for old time's sake, and that led to me going around to all the shops trying to get a complete set of that series.
And it grew from there?
Yep, it sure did! I remember going to the midnight screenings of The Phantom Menace and Attack of the Clones when they came out, and then in 2002 I joined the police force and was posted out in a small town called Cootamundra in Southern New South Wales. I worked 12 hour shifts, then on my days off I'd start buying all of these vintage Star Wars things from overseas because there were a lot of figures we didn't get here and a lot of stuff that was hard to find as a kid. As time went on I had more money to spend and kept buying more and more, and it hasn't stopped!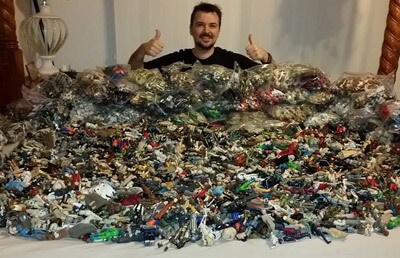 How big is your collection now?
I've got tens of thousands of loose vintage figures alone, and thousands of cardback figures. Then you've got coins, comic books, spaceships, creatures... there's hundreds of thousands of unique items.
I live in a two-storey, five-bedroom house, and pretty much every room has Star Wars stuff in it! I've got one room that's an arcade game room with two giant Star Wars arcade machines. One from the early '90s where you're flying an X-wing and you are involved in space battles and have to destroy the Death Star at the end. The other is called 'The Star Wars Trilogy' and you've got a control stick. On some levels you're Luke Skywalker and you're fighting Darth Vader or Boba Fett with a lightsaber, then on others you're flying snowspeeders and attacking AT-ATs, or you're flying speeder bikes through Endor.
I've obviously got a massive collection of vintage toys. I have an obsession with loose figures – whenever I see any I just buy the lot – I can't help myself! I've got literally thousands of loose figures – I have people asking me "Why do you need so many?!" And I don't know – it's like an addiction! [laughs] I just can't say no if I see them.
I tell myself I buy so many because there are so many variations of these vintage figures, so when I'm buying these bulk lots I'm always finding a rare variation that other people may not have seen. For example, with Luke Skywalker he's got yellow hair, orange hair, different lightsabers, different countries of origin... there's just so many variations of the basic figures. Once you collect a whole set there's no end, because then you start collecting the variations, the foreign releases, prototypes – it's just never-ending!
Do you have many action figure prototypes?
I've got a couple of cardback action figures that have the The Revenge of the Jedi logo on them. The more modern prototypes are easier to get, like stuff from Hong Kong and China, with prototypes of the Hasbro figures – I've got lots of those. I've got some prototype vintage coins that weren't released as well from the Droids line. I don't have a Boba Fett with a firing rocket pack, unfortunately!
Do you have a favourite vintage figure?
The Jawa – I started collecting the vinyl cape Jawas, which is one of the variants. We got a different version in Australia – a Tolytoys Jawa which had a different coloured cape to the American version. Our version was also released on a The Empire Strikes Back card, whereas in America it was released on an original Star Wars 12-back card. When they first appeared, a lot of people thought they were fake because the capes were the same colour as the Obi-Wan Kenobi cape. Our version got sent around the world and examined by experts and it was found that Australia was the only place in the world that got this variant. So I like collecting those and get a real sense of satisfaction when I find an original one. I probably have about 12 of those now, and they're not cheap – they sell for over $2000 each now, and continue to rise.
What are some of your rarest items?
In terms of vintage items, I have one of those vinyl cape Jawas on a 12-back card, the US version, and that's worth about $10,000. Probably my most unique item is when they released 'The Power of the Force' action figure line with coins in 1985. I've got a Han Solo in carbonite on card, and there's actually four coins inside the plastic bubble. That's been certified and graded at an 85. It's a complete one-of-a-kind that I bought from the original owner – he had a toy shop in America and had a fresh box of figures and was putting them out on the shelf and he saw the figure with the extra coins so he put it aside.
Fifteen years later he decided to sell it, and I was lucky enough to be at Star Wars Celebration in the US and I made him an offer and it's in my collection now! Because it's a one-of-a-kind, it's pretty much worth whatever the buyer is willing to pay. I've had an offer of around $10,000, but I've passed on that. I'd estimate it's worth at least $15,000.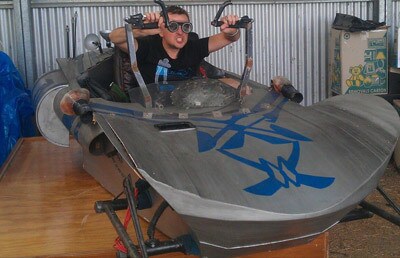 What's the last thing you bought?
My favourite recent purchase is a life-size Sideshow Collectibles Boba Fett from The Empire Strikes Back that's movie accurate. It looks unbelievable – the detail is incredible, from the Wookiee scalps to bullet holes and burn marks on the cape.
How much do you think your collection is worth?
My estimate would be over $500,000, but I couldn't say the exact figure. Friends have asked me if I'd ever sell it all, and I always say that I wouldn't mind opening a Star Wars museum one day, or to participate in a documentary or TV show where I sold off everything and tallied up how much I had and what it's worth.
Are you running out of space at home?
I am! I was thinking of going up into the attic or getting an extension on the side of the house, but that would be too small and like a Band-Aid solution! I've been looking at big warehouses – maybe that way I can free up some space at home.
You've got some pretty large Star Wars items too...
Because my collection of carded figures got so big, I wanted to go for some larger items that would stand out. I'm online searching every day, it's like a ritual, and one day I found someone who said they were selling a life-size podracer. I couldn't tell how big it was from the photo, it looked like a toy. I picked that up for $400, so drove my van to Nowra (over 5 hours away) to pick it up – I couldn't even fit a third of one of the engines inside the van! [laughs] So I had to make two return visits with a truck to get it all. It turned out that the podracer was made in 2002 as part of a prop making course at NIDA (National Institute of Dramatic Art) in Sydney. It's pretty incredible.
You've had the chance to meet several Star Wars actors too, like the late, great Carrie Fisher...
Yes I've met Carrie, Mark Hamill, Anthony Daniels. Anthony was great because I actually met him in a lift in the hotel I was staying in. I asked him to pose for a photo, which he was very happy to do! He even put the C-3PO voice on for me, he was a great guy. I also love Temuera Morrison who played Jango Fett, he's unbelievably funny – he should be a comedian. I got to meet Carrie a few times - the first was at Celebration in 2010 and I had a photo taken with her, and I remember her saying something witty about my Aussie Vader costume. I had a chance to meet her again at Supernova in Sydney in 2013, and I brought the photo of us from Celebration and she signed it with "Help me, Aussie Vader – you're my only hope!"
Finally, can you explain your 'Aussie Vader' costume for us?
The idea came about in 2010 when I was going to attend Star Wars Celebration in Orlando. I was going to attend dressed as a stormtrooper with an Australian flag cape, then friends suggested a Darth Vader costume with an Australian flag cape. I had a mate who did airbrushing on cars, so he offered to paint the costume for me and it came out really well. It's a costume that definitely stands out...
James Jennings is a writer (Rolling Stone, screenplays, various illegible handwritten notes), presenter and Star Wars fan whose aim in life is to make the kessel run in less than 12 parsecs. He takes great pleasure in using his Han Solo in Carbonite bottle opener and can be found on Twitter @JJTron2000, Facebook or at www.jamesjennings.info

More Star Wars Australia + New Zealand //