Meet The Man Who Built A Snowspeeder In His Garage
How Australia's Mark Dickson went from working on V8 race cars to making life-size Star Wars vehicles.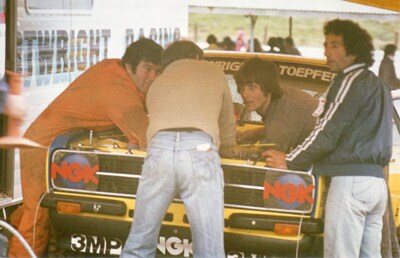 Tell us about your history with
car racing...
I did an apprenticeship with [champion V8 racer] Craig Lowndes' father Frank when I was about 15 and wound up building engines. We had a touring car team back in the '70s - it was part of the Brian Wood Ford team, which Murray Carter also raced within.

In 1979 and 1980, I was involved in preparing the XC Falcon for races. I worked for Frank up until 1981, then had a couple of years away from racing and eventually wound up working for Bob Jolly, who had a sports sedan VH Commodore.
I designed and built his replacement VS Commodore sport sedan and I did that up until about 2000.
I also had my own yellow Ford Escort which I raced in club events which was also my road car at the time. My wife Nancy actually raced as well and she also used to work for Frank Lowndes.
Image: Mark Dickson (second from right) with driver Roger Cartwright (left) and co-crew at the Bathurst V8 races in 1979.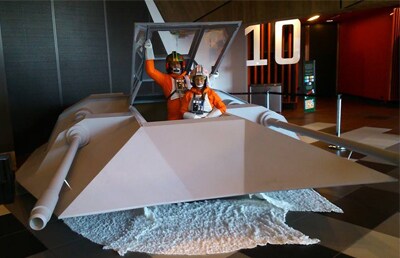 What was your introduction to the
Star Wars universe?
My wife Nancy – she's the big Star Wars fan, more so than me! I got involved with the Rebel Legion [costuming fan club] through her, and now I'm second in charge of the base [Hoth Base].

Her story is that she was going to the movies and saw some good looking boys going in to see Star Wars: Episode IV A New Hope, so she followed them in and was then blown away by the opening scene and she's been a fan ever since. Now she's roped me in!
I like the movies, but enjoy the community and the charity side of what the 501st Legion and Rebel Legion do and being able to see the smiles on little kids' faces.
Image: Snowspeeder builder Mark Dickson and wife Nancy.
How did you get into making Star Wars costumes and props?
I got involved with the Star Walking Inc. fan club and started to build props for them. My wife started making costumes so that's how I got into making costume accessories – so far I've built X-wing pilot accessories for about 50 people. I do the chest box and all the metallic bits and pieces – belt flairs, arm flairs. My stuff has gone as far as Germany, America and all around Australia.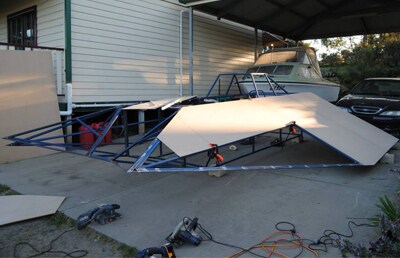 What costumes do you personally own?
I've got three different Jedi costumes plus X-wing pilot, Snowspeeder pilot, Rebel Fleet trooper, a Hoth trooper outfit that's 90 per cent done. And a Stormtrooper reserve outfit, which is like a TIE fighter pilot without the armour on. I think that's it!

Nancy makes the costumes, I do the accessories; she does the software, I do the hardware! I've also built lightweight lightsabers that you can hang from a belt without pulling it down.
How did the idea come about to build a full-scale Snowspeeder?
Because I'm part of the Rebel Legion Hoth Base, they asked me to do it, and I said, "Yeah, shouldn't be that hard."

We did a quick drawing of what we needed to do, worked out how to split it up so we could transport it, came up with a small budget for it and away we went.
Were you able to refer to any pre-existing blueprints before you built it?
If you take a close look at the Snowspeeders in Star Wars: Episode V The Empire Strikes Back, every one is different – different widths and sizes. We used one particular picture from the movie for reference, and we just scaled everything to that picture.

I've started building stuff for the new [Star Wars: The Force Awakens] X-wing costume the same way, just by taking a look at it and figuring out the dimensions in my head.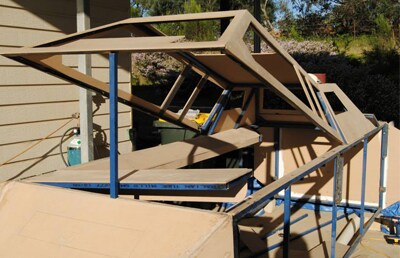 What materials did you need to build it?
I went down to see my local steel man, who I knew was a Star Wars fan, and picked up some materials for a good price. I used some square tubing to try and keep it strong but not too heavy.

I did the main centre structure first then designed the wing sections from there. Then I made it level with the ground and added the wheels to give it clearance so it can roll around. A team of four of us can put it together and pull it apart in about 20 minutes.
How long did it take to build?
All up we completed it over a four-month period.

Where's the Snowspeeder parked?
In my carport!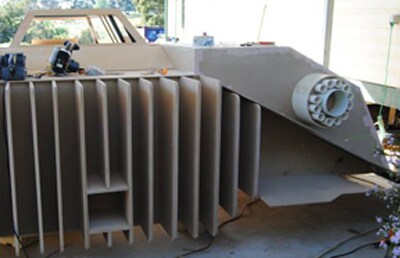 How often is it pulled out of the carport?
At the moment it's on display about twice a year. This year we took it to Penny Arcade Expo and Melbourne Comic-Con.
Do you consider the Snowspeeder finished?
No, there's a lot more to do yet. We've still got to do a lot of the interior work, a bit more detail on the outside and eventual we'll put an electric motor in it and make it driveable for parades. Recently we added the cannon onto the back of it.
Are you tempted to build any more Star Wars vehicles?
If I had a factory to build in I would, but because I'm working at home I don't have the space. My wife's always wanted me to build an X-wing, but that's quite a bit of work. I've built two R2 units, and she said, "Well, that's a start for the X-wing!"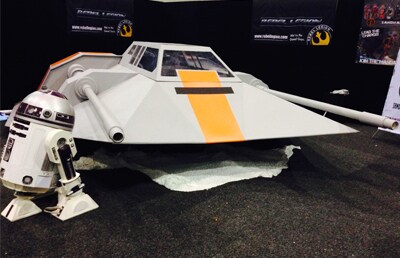 How have people reacted to seeing it?
People have been amazed because the first time we released photos of it, the photos were taken from a second floor height – people thought it was a small toy. Then when they realised it was real people standing beside it they couldn't believe how big it was.
Will you be off to see Star Wars: The Force Awakens when it opens?
Yep, definitely. My son and my granddaughter are big Star Wars fans too – it's in the family. Three generations! We'll most likely see The Force Awakens together.
Star Wars and Holden join forces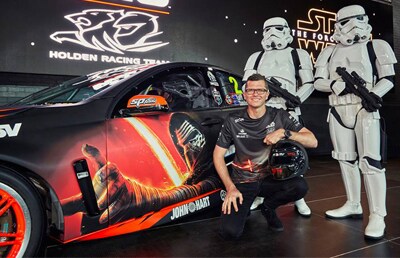 For a contest to rival the best Galactic Podrace, tune-in to this year's Bathurst V8 1000 from October 8-11.
HRT - Holden Racing Team has joined with Star Wars to bring the Force – both the light side and the dark - to Mount Panorama.
Three-time champion, Garth Tander along with co-driver Warren Luff have publicly declared their allegiance to the dark side and will steer a car that features Star Wars: The Force Awakens' Kylo Ren and a First Order Stormtrooper on its livery around the track.
Who's representing the light side? Well, you'll just have to wait and see.
There will be unique Holden | Star Wars collectible merchandise and apparel available on-track and also online now for purchase.
See more photos of Tander and Luff's dark side car.
James Jennings writes for the Australian editions of Empire and Rolling Stone and still has a substantial amount of vintage Star Wars toys stashed at his parents' house, much to their chagrin. He takes great joy in using his Han Solo in Carbonite bottle opener and can be found on Twitter at @JJTron2000.
More Star Wars Australia + New Zealand