PETER MAYHEW RETURNS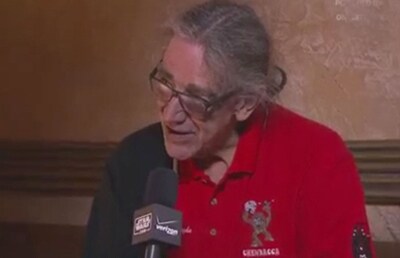 Star Wars: The Force Awakens opens in a few days. We'll get to welcome back to the screen some beloved characters, and meet a bunch of new ones.
Seventy-one-year-old British actor Peter Mayhew has been bringing everyone's favourite Wookiee/walking carpet, the loveable fuzzball Chewbacca, to life now for close to four decades. During a recent trip to Australia for the Supanova Pop Culture Expo, we caught up with the 2.18 metre-tall gentle giant to discuss his return to a galaxy far, far away, reuniting with old buddy Harrison Ford for Star Wars: The Force Awakens and how people just cannot stop hugging Chewie...
What was it like putting on Chewie's costume again after a decade?
It was like wearing an old suit. It's interesting when you've done something from quite a long time ago and you're going back to it, even though at the time you never would've thought about doing it again. But it was fun – everybody enjoyed themselves. I know I did.
Was it surreal to be in character as Chewie with Harrison Ford as Han Solo by your side for the first time in 32 years?
It was a hell of a trip. He's a great guy, an old buddy and it's great to work alongside an actor who's that high quality.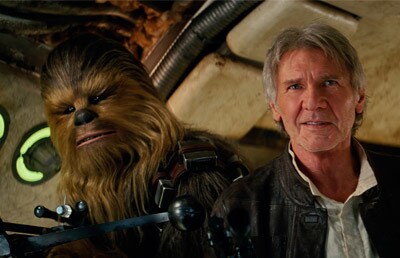 How was your first day on set
of Star Wars: The Force Awakens?
Wonderful, it was great to be a part of it. [Harrison and I] just got together and did our thing; it was very, very enjoyable.
Chewie doesn't appear to have aged -
any grey hairs if we look closely?
Very little! Pure and simple. Remember that Chewie eats carrots, and at 200 years old, is the youngest of the Wookiees when we first met him.
You've got to appreciate that he does hold his age pretty well. He's got a good fitness regime – swinging from trees, killing stormtroopers, you name it [laughs].

From the trailers and TV spots it's safe to say that Chewie isn't too old though to get into a bit of action?
Chewie will carry on for as much as he can. He likes a bit of action now and again. What Wookiee doesn't?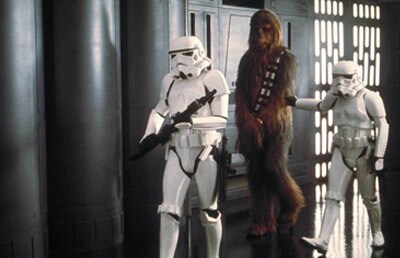 Is the suit claustrophobic?
It does get claustrophobic, but you only wear it a certain amount of time. There's always stages when you're working that you can get out of it when they're working out cameras and angles and stuff like that. You get out of it as quickly as you can because it's like wearing a big armoured suit. It's easy to get the head off when you need a bit of a break. In total, the suit only takes about 15 minutes to put on. It's definitely quicker than putting on the Vader or Threepio costumes.
It must get hot in there!
It does. It's like wearing a winter suit in summer in Australia. And god help you if the temperature is over 40, because then you're really gonna sweat!
You had some coolant in the suit for Star Wars: Episode III - Revenge of the Sith, right?
Yep, we did. The suit had a tube with ice in it running around the whole of my body. I didn't have it [for The Force Awakens] because you only need it when it gets pretty warm. We devised something else for The Force Awakens, but I can't say what [laughs].
Have you ever tripped over in the suit?
On The Empire Strikes Back we were running back to the ship along a slide-y corridor [on the Bespin set], and with Threepio on my back I hit a slippery patch and Threepio goes one way and I go the other and they had to pick me up [laughs]. These things happen. I was out of action so they tried someone else [in the suit], but it didn't work. Instead they went and did some other filming and got back to me when I felt better.
On average, how many hugs do you get a day when you're dressed as Chewie?
Too many! You go on set and you know damn well that someone wants a hug. Either one of the canteen girls or one of the make-up girls or whoever it is wants a hug from Chewie, which is natural, if you think about it! He's lovely and returns hugs how they're meant to be.
Did you shoot your scenes for
Revenge of the Sith
in Australia?
Sith was in Australia, in Sydney. It was great to come over and look around Sydney and do work and have fun. It was only a short spell but it was nice to be able to do.
Have you had much interaction with Aussie fans?
Yes, a lot. Five thousand people turned up to the last convention, it was wonderful. I get a lovely reception and it's one of those great things where you've done the work and now you can just sit back and enjoy it and have fun with it.
What's the strangest thing a fan has asked you to sign?
This goes back a long way! I think it was a leotard when we were doing the Donny & Marie [Osmond] show a long time ago, and a girl asked us to sign her leotard [laughs]. I was like "okay", and signed this very thin leotard with a very big pen. I don't know who was more embarrassed – her or me [laughs]. But these things come up, and you gotta sign it. It's fun.
What's the coolest thing a fan has given you?
Probably a Chewie model that is about 25 inches tall and was hand-made by a Japanese guy. It has a metal frame with porcelain over the top of it and then he's hand-stitched all of the lambswool fur on himself. It took him three months to make. Usually Chewie toys are plastic, but this one is beautiful and they've even made a miniature version of me to go along with it. It needs cleaning every now and again [laughs]. We've got a lot of collectibles in the museum we've been putting together at home over the years.
You've got a lot of Chewie merchandise?
One hundred per cent! Anything related to Chewie we have got, either manufactured or fan-made, which I'm always very grateful to receive. It's lovely to have the appreciation from the fans.
You'll have to start charging people to come and look at it all!
Yep, and journalists will be first! [laughs]. We've thought about it, but would you like people coming through your house? Probably not.
Chewie's vocalisations, of course, were created from actual field recordings of bears, lions, badgers, and other animals. Can you do a good Chewie impression yourself?
[Does a perfect Chewie sound] Yep. Most of the time I can do it.
Besides Chewie, who's your favourite Star Wars character?
There can be only one, and that's Han Solo! But I don't think there's another character that's able to spread happiness quite like Chewie though, he's quite unique in that way.
Which scene from the Star Wars saga has been your favourite to shoot?
Probably the chess game in A New Hope. You're there and no-one's asked if you can play chess or not, and there are so many cameras around, but it worked! I asked a special effects guy how to play chess, and he said "don't worry about it mate!" Typical Australian. He said "we'll put it in afterwards once the action is done."
Why doesn't Chewie get a medal at the end of Star Wars: Episode IV A New Hope?
Good question. You better ask George [Lucas]! I don't know. Carrie [Fisher] was short and maybe it looked a bit weird her not being able to reach my neck! I was a bit annoyed at the time, but I got one a bit later on, so it wasn't too bad. And all the last lines in the original trilogy are mine, so that's pretty cool!
How do you think fans will react to The Force Awakens?
If they enjoy Star Wars I think they'll enjoy it. That's my opinion, and I'm gonna stick to it!
Peter Mayhew was a guest of Supanova Pop Culture Expo. There are a number of expos happening in 2016 across Australia where celebrity guests will attend.
James Jennings writes for the Australian editions of Empire and Rolling Stone and still has a substantial amount of vintage Star Wars toys stashed at his parents' house, much to their chagrin. He takes great joy in using his Han Solo in Carbonite bottle opener and can be found on Twitter at @JJTron2000.
More Star Wars Australia + New Zealand