Rogue One Anticipation Hits Fever Pitch Among Fans //
With only a few more days before Rogue One: A Star Wars Story hits cinema screens, we check in with several members of Australia's Star Walking Inc. (one of the longest running Star Wars fan clubs in the world) to gauge their reaction to the Rogue One trailer footage that they've been eagerly pointing their macrobinoculars at...
Orson Krennic //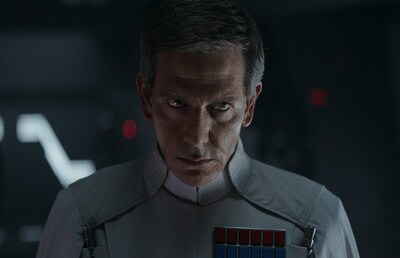 Nick:
I loved seeing Ben Mendelsohn. You've gotta love seeing Mendo dressed as an Imperial! He's an established actor who's done so much great work like in Animal Kingdom, but even back when he was in The Henderson Kids, you just knew that one day he was gonna be an Imperial and he was gonna mess with the Rebels!
Jyn Erso //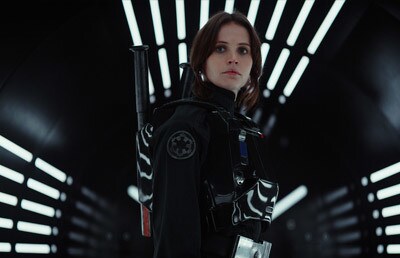 Andrew:
I'm really interested in the battle sequences, but I'm also interested in learning more about Jyn Erso [Felicity Jones] as a character. I'm also looking forward to seeing how Darth Vader fits in there and what happens when he appears.
Stormtroopers //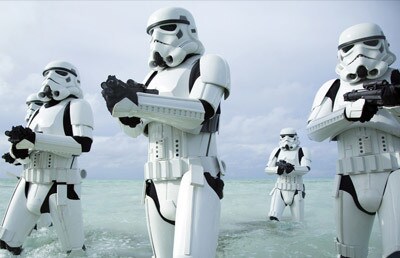 Jacob:
It's very exciting to see something that's set between Revenge of the Sith and A New Hope. The footage I've seen of the stormtroopers running along the beach in battle looks amazing – the cinematography and how they present that is what I'm looking forward to most.
Darth Vader //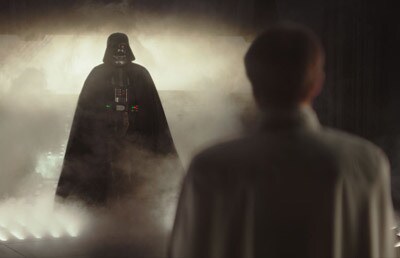 Dale:
Darth Vader is what it's all about for me. You see him walk quickly in the trailer as opposed to slow and measured, so something is happening. Angry Vader perhaps?
Wes:

I loved the latest trailer, it was awesome. I love the bit where they break Jyn out of prison, and the bit where you see Darth Vader stalking towards the camera! Love it.
Weapons & Battles //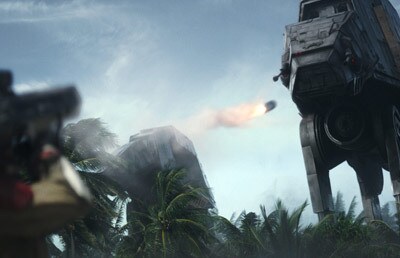 Geoff:
My favourite bit was seeing an Imperial Star Destroyer in daylight! And the AT-ATs. I still want the Ewoks to come out though and bash them up with logs – that's what I'm waiting for!
Saw Gerrera //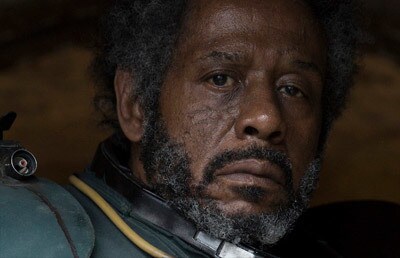 Paul:
I loved seeing Saw Gerrera walking on his robotic legs, seeing what the Rebellion really was and how he fought for them. It's interesting that this is a war story and it does look different to other films.
John:
I like Forest Whitaker and I'm looking forward to seeing what he can do. It's also good to see female actors in strong lead roles.
Characters //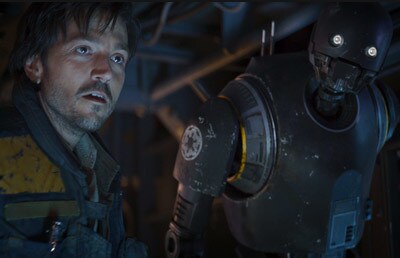 Debbie:
I look forward to the story and the psychological interaction among characters most in Star Wars films, so what I'm looking forward to is finding out who did what and how did it all come about!
Christian:
It looks like there's a focus more on the 'wars', which is an original take on the Star Wars mythos. I'm looking forward to an emphasis on the struggles of the individual soldiers.
Classic Aesthetic //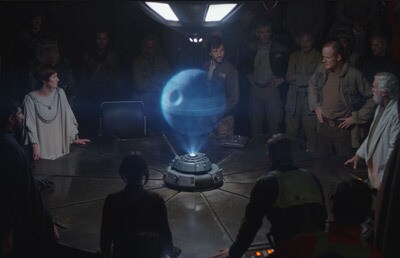 Graham:
There's that really classic Star Wars look to it. The thing that really stuck in my head from the trailer, and I didn't even notice it until the third time I watched it, was the fallen statue of the Jedi in the sand. It really sets the scene as to where we are in the timeline.
James Jennings is a writer (the Australian edition of Rolling Stone, screenplays, various illegible handwritten notes), presenter and Star Wars nut whose unit is overrun with vintage Star Wars collectibles (much to his children's joy and partner's chagrin). He takes great joy in using his Han Solo in Carbonite bottle opener and can be found on Twitter @JJTron2000, Facebook or at www.jamesjennings.info

ROGUE ONE: A STAR WARS STORY ARRIVES ON BLU-RAY, DVD AND DIGITAL //
The Mission Comes Home.
Rogue One: A Star Wars Story, the thrilling tale of how the Rebellion stole the Death Star plans, is officially coming home. (Just don't tell Director Krennic.)
A wide array of bonus features, ranging from never-before-seen cast and creator interviews to a look at hidden Easter eggs, will take fans deeper into Rogue One than ever before.
The film is available now on Blu-ray™, DVD & Digital.
More Star Wars Australia + New Zealand //