Star Wars Battlefront Attacks EB Games Expo
Darth Vader is the kind of imposing bad guy who knows how to make his presence felt.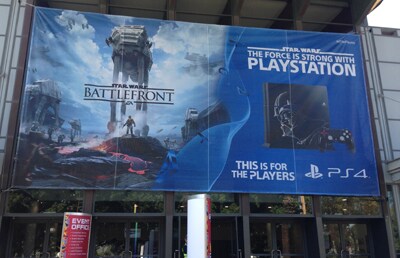 The Dark Lord of the Sith – along with a few towering AT-AT walkers – was doing precisely that at this year's EB Games Expo, staring down menacingly from a giant Star Wars: Battlefront banner displayed above the entrance to the event.
Drawing a massive crowd (over 36,000 people attended the three-day event), it was no small surprise to find long queues of punters itching to try Star Wars: Battlefront.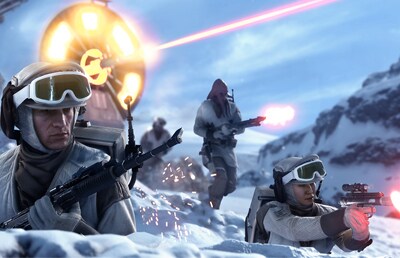 There were people on hand providing lightsaber demonstrations to keep the crowd entertained, in what became two to three hour waits for some, before entering the PlayStation® Star Wars: Battlefront zone equipped for 40 excited gamers at a time.
Although there's a rich lineage of Star Wars games stretching back to the Atari era of the 1980s, Star Wars: Battlefront – a reboot of 2004's Battlefront and 2005's Battlefront II - is set to blow everything that's come before right out of the water. Having also been given the 'Game of the Show' award at the Expo, expectations are high.
Image: Star Wars: Battlefront Hoth Mission.
The action game (played from a switchable first- and third-person shooter perspective) boasts incredibly realistic graphics as the makers used scans of props and vehicles from the films. The missions are set on planets both old and new (Hoth, Tatooine, Endor, Sullust and Jakku; the latter set to feature in Star Wars: The Force Awakens).
Players have the ability to pilot iconic vehicles (hello, Endor speeder bikes and AT-AT walkers!) and play as either part of the Rebel Alliance or Imperial Stormtroopers (including playing as iconic characters Luke Skywalker, Darth Vader, Boba Fett and a host of other original trilogy favourites).
As a huge fan of Star Wars – but not that big a fan of massive queues – I used an old Jedi mind trick to slip in the back entrance to the Battlefront briefing room to witness a mission run-down video featuring everybody's favourite Admiral (that'd be Ackbar rather than Ozzel, naturally) before being set loose in the multiplayer game zone to engage in - yes! - the Battle of Hoth.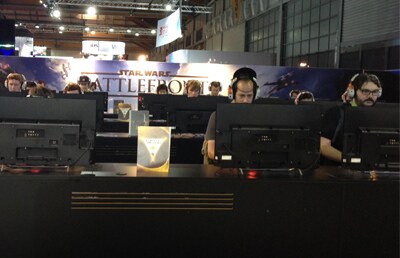 As I'm not a particularly experienced gamer, using the PS4™ controller (for a newb like me, it resembled something you'd use to pilot an alien vehicle) was tricky and resulted in my Rebel Alliance character walking into walls repeatedly and being shot on an alarmingly regular basis by the Imperials.
I decided to hand the controller to someone more skilled to for a better display of the game's capabilities: scenes of heart-pounding ground warfare, followed by a snowspeeder being commandeered and attempting to take down an AT-AT with a tow cable.
Image: Gamers in the PlayStation®4 zone with focus that would make Yoda proud.

Thoroughly convinced that a game console purchase was now a complete necessity I wandered around to gauge gamers' post-Battlefront gameplay reaction.
BEN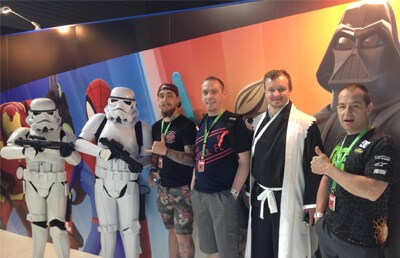 Are you a big Star Wars fan?
Yes, going back to when I was two or three years old when my dad introduced it to me. He passed away just after The Phantom Menace came out, but we went and saw that together.
What did you think of Battlefront?
I played in the Battle of Hoth. I was very lucky and scored the Jedi pick-up and got to play as Luke Skywalker for a little while. Taking down the AT-AT walkers with the Y-wing bombers was amazing too – it was like watching the original trilogy again.
Would you play as light side or dark side?
Dark side. I'm Vader all the way, baby!
Image: Ben (second from left) with some other Expo attendees before being asked to "move along".

NATALIE & ABIGAIL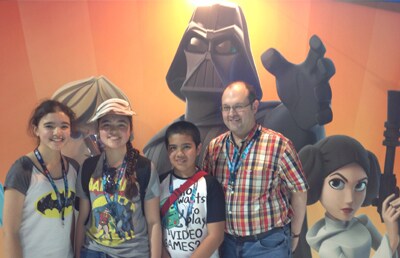 NATALIE:
I'm a big Star Wars fan – and it's her fault! [points to sister] And also Dad's fault because he started Abigail on it and she got obsessed with it.
What did you think of Battlefront?
I liked the massive multiplayer teams. I would've liked to have gotten into a ship but I was on foot the whole time.
Would you play as light side or dark side?
Dark side – the villains have more fun.
ABIGAIL:
Star Wars is amazing – I love the movies, the books, the games. Everything!
What did you think of Battlefront?
It was really captivating – it was cool to see all of the different alien races of the soldiers. It was well worth the wait and the leg cramps from sitting in line! The graphics were amazing – if you walk in the snow you leave footprints!
Would you play as light side or dark side?
I'd choose light side just so I could beat my sister, who chose dark side!!
Image: Natalie and Abigail with their father and brother. Family members choosing the dark and the light as opposing sides... and so it goes across the galaxies for many years past, and many to come.
EMMA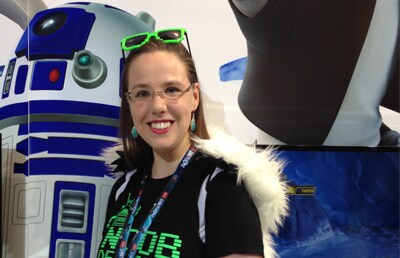 Are you a big Star Wars fan?
Yes - I've actually been the one to get my parents and younger brothers into it! I'm super excited about The Force Awakens – I've made sure I've got nothing on so I can go opening day!
What did you think of Battlefront?
It feels like I'm part of the movie. I'll probably play the game as light side and then all over again as dark side. In the past I've played stuff so much that I've broken the disc and had to get another one, so I'm expecting that to happen with Battlefront too because I'll probably play it too much!
MARTIN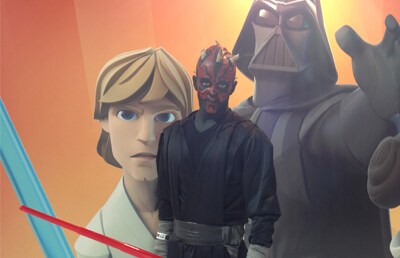 We're guessing you're a big Star Wars fan!
Yep! Dad got me into Star Wars at an early age and I've just been hooked. I'm really keen for The Force Awakens.
What did you think of Battlefront?
It's just on such an epic scale – you're on one side and you see all the blaster fire coming from the other side... you feel like you're actually in the movie.
Would you play as light side or dark side?
I'm dressed as dark side, but with the game I've played as both the Empire and the Rebels and I enjoyed the Empire more, so dark side, definitely!
Star Wars: Battlefront is out November 19 on PlayStation 4, Microsoft Windows and Xbox One and is available to pre-order now.
James Jennings writes for the Australian editions of Empire and Rolling Stone and still has a substantial amount of vintage Star Wars toys stashed at his parents' house, much to their chagrin. He takes great joy in using his Han Solo in Carbonite bottle opener and can be found on Twitter at @JJTron2000.
More Star Wars Australia + New Zealand