Surprising Things We Learned From The Star Wars: The Force Awakens Novel
Alan Dean Foster's novel adaptation of Star Wars: The Force Awakens contains, unsurprisingly, a Super Star Destroyer-sized amount of illuminating new information and - coolest of all - a bunch of scenes not featured in the film. We've scoured the pages for the best bits, categorised by character (and sorry, fans of BB-8 or that stormtrooper who yells "TRAITOR!" - they don't get any extra bits juicy bits added into the novel).
And be warned – potential spoilers ahead...
General Leia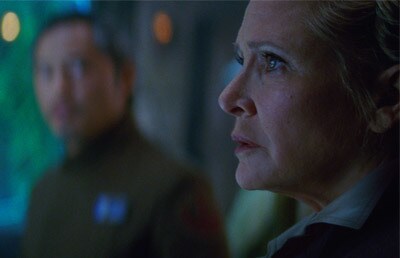 Good news, Leia fans: there's a whole lot more of everyone's favourite (or possibly second favourite) Force-sensitive twin in the novel. The story begins with General Leia setting events in motion that will lead to the recovery of a certain highly sought after map, and there are several points in the book where C-3PO makes an appearance alongside her. The biggest surprise, though, is Leia's Force sensitivity coming into play at a certain point that we won't reveal...

Poe Dameron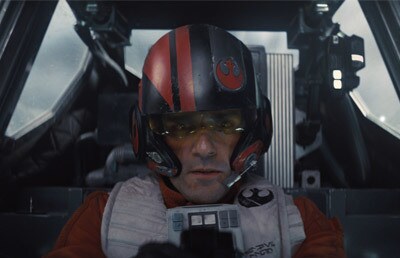 We all know that ace pilot Poe Dameron managed to survive the TIE fighter crash on Jakku and eventually reunite with his Resistance comrades, but the details of how weren't covered in the film. Not only do we learn exactly how Poe gets out of that rather hairy situation, but there's also an action scene involving an alien and a speeder that acts as another awesome demonstration of Poe's piloting prowess.
Finn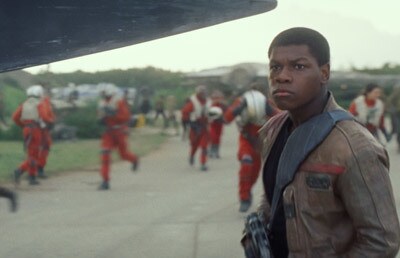 The man formally known as stormtrooper FN-2187 has his character fleshed out further within the novel in several ways. There's more on his reluctance to engage in the massacre on Jakku (and the ways in which that incident affects him in both a physical and psychological way), and we also get a little bit more info on his escape from the crippled TIE fighter too. And, like Poe, there's also a scene where he comes into contact with a few of Jakku's desert wanderers...
Unkar Plutt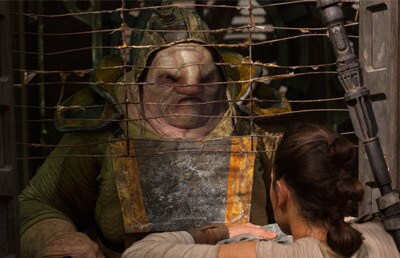 The most exciting missing scene to be unearthed from the The Force Awakens novel features junk trader Unkar Plutt and something that makes good on Han Solo's promise in A New Hope that a Wookiee can rip someone's arm from its socket. To wit: in an effort to exact his revenge on Rey for stealing the Millennium Falcon, Plutt tracks her down to Maz Kanata's castle. Without giving too much more away, let's just say this: it's really not wise to upset a Wookiee.
Rey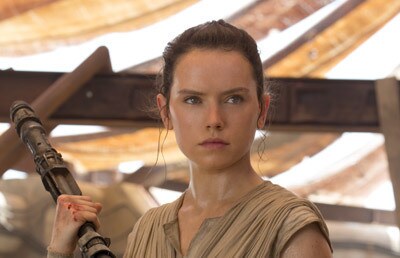 Desert dweller Rey displays her supreme piloting skills while flying the Millenium Falcon on Jakku while evading TIE fighters, but there's other examples of her impressive skills in the book (including a scene involving Finn that sees the pair steal a snowspeeder while on the surface of Starkiller Base). There's also a memorable moment where we witness Rey being beckoned by the dark side during an encounter with Kylo Ren...
Kylo Ren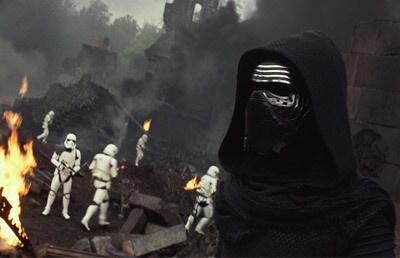 The man born Ben Solo has a new scene that involves himself and the Millennium Falcon - a moment that holds extra weight when taking into account his family lineage. His climatic lightsaber duel with Rey also offers up some surprising new information, inferring that the Darth Vader disciple may actually know who Rey is and where she comes from...
STAR WARS: THE FORCE AWAKENS IS NOW AVAILABLE ON BLU-RAY™, DVD AND DIGITAL HD.
THERE'S AN IMPERIAL TONNE OF BONUS CONTENT INCLUDING DELETED SCENES, FEATURETTES AND EXCLUSIVE INTERVIEWS.

* DIGITAL BONUS OFFERINGS MAY VARY BY RETAILER.
James Jennings writes for the Australian editions of Empire and Rolling Stone and still has a substantial amount of vintage Star Wars toys stashed at his parents' house, much to their chagrin. He takes great joy in using his Han Solo in Carbonite bottle opener and can be found on Twitter at @JJTron2000.

More Star Wars Australia + New Zealand