T-minus 90 Days Until Star Wars: The Force Awakens!
The countdown is on for Episode VII's December 17 opening...
It may have once seemed as distant as the twin suns of Tatooine, but the release date for the most anticipated film of all time is quickly closing in on the ol' targeting computer. We check in with some superfans to find out what they're looking forward to seeing the most in Star Wars: The Force Awakens, how many times they're planning on viewing it at the cinema and if they'll be attending in full Star Wars regalia...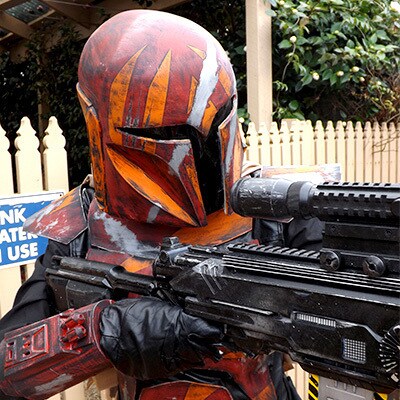 EMILY CLARKE, MANDALORIAN MERC

Emily will be seeing the movie at least three times and can't wait to see characters from the previous films like Han Solo and Chewbacca.
"Star Wars has always been a massive part of my childhood so I expect the nostalgia to hit me like a train!" she says. "The music [from the teasers] brought on so many memories of watching the films with the family as a youngling. I also loved seeing all the new additions like the changes in the stormtrooper armour, and seeing Kylo Ren introduced was awesome.
"I will definitely be attending a midnight screening. It's a tough decision as to whether I would go in costume as my Mandalorian armour is rather restricting! I am able to sit down in it but maybe not for the entire film, which I'll be seeing with my fellow Mandalorians. We all love Star Wars, so why not see it together like close friends should?"
Chris Brennan, Star Walking Inc. Club Director
Chris plans on seeing Star Wars: The Force Awakens with 800 of his closest friends from the Star Walking Inc. club (he'll be dressed as a "Dark Jedi"), and has a novel idea to make sure he can see the movie as much as possible: " I plan to live in the cinema!"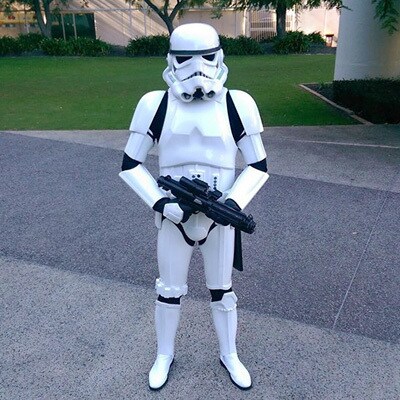 Glen Rhodes, 501st Legion

The proud owner of his very own stormtrooper armour, Glen is pretty clear about what he's looking forward to seeing the most: "Stormtroopers in action! And I'm intrigued to see more of that crashed Star Destroyer..."
Glen plans to attend a midnight screening in his stormtrooper armour (naturally) along with "about 25 squad members of the 501st Legion. I reckon I'll see it a minimum of three times - one in costume, one for the bits I missed, last one to pick on mistakes in costumes!"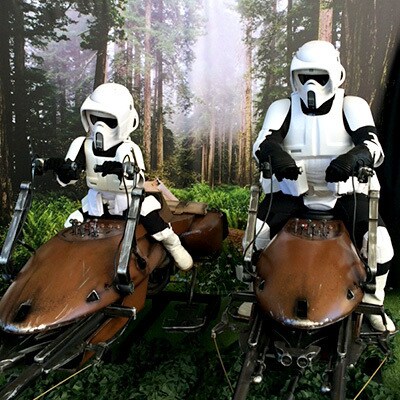 Liz Shord, 501st Legion
For many Star Wars fans, the breakout star of the trailers is a certain ball-shaped droid. Liz is no different: "I can't wait to see BB-8 in action, along with all the new costumes!
"I'll be going to the midnight screening in my Biker Scout costume with about 20 or 30 other squad members," says Liz. "I'll see it a minimum of three times, and usually I never go to the movies more than once!"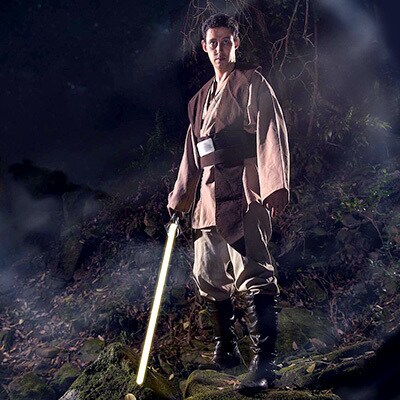 Max Battistella, Rebel Legion
Like most people, Max is keen to find out what has happened to everyone's favourite bionic-handed Jedi, "I want to see what became of Luke Skywalker and how the galaxy has changed after Star Wars: Episode VI Return of the Jedi," he says.
Rather ambitiously, Max plans on seeing Star Wars: The Force Awakens "every weekend until it stops being shown" (beginning with a midnight screening where he will be dressed in his Jedi garb), and warns that there could be tears: "The 'Chewie, we're home' bit in the trailer - I cry every time I see that."
He's also planning on taking his six-year-old daughter and four-year-old son to see their first Star Wars film on the big screen ("They've already seen all the other Star Wars films!").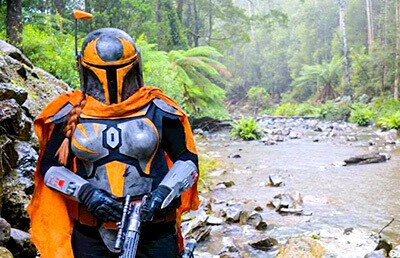 Megan Dick, Mandalorian Merc
Megan can't wait to see all the old favourite characters and is particularly intrigued by the Dark Side in the trailers: "The Darth Vader mask all burnt and broken up was very cool, as was Kylo Ren's amazing lightsaber," she says.
Megan has committed to seeing a midnight screening of the film in full Mandalorian armour, and has taken the extra step of taking the next day off work so she can "go on the first opening day with anyone who is keen to go again!" Ditching work to see a Star Wars movie – Ferris Bueller would be proud.
Lewis Allan, Star Walking Inc.
For Lewis, the trailers for Star Wars: The Force Awakens have left him in desperate need of some answers. "The crashed Star Destroyer and X-Wing - they raise so many questions about what led to that point," he says. "What was the Battle of Jakku fought for? Who was there? What are the ongoing repercussions?" All will be revealed in time...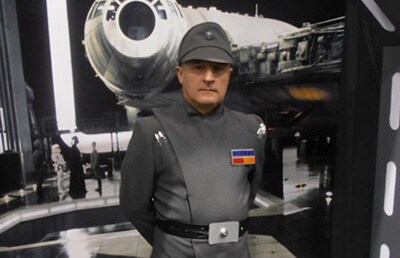 Shane Morrissey, Star Walking Inc.
Shane may be a hardcore fan of the Original Trilogy, "Hearing Luke's voiceover was my favourite part of the trailer," he says, but there's a chance he'll be seeing a midnight screening of Star Wars: The Force Awakens as one of the new characters in the film.

"I might be attending dressed as General Hux - once there are some more clearer photos of him so I can study the costume more!"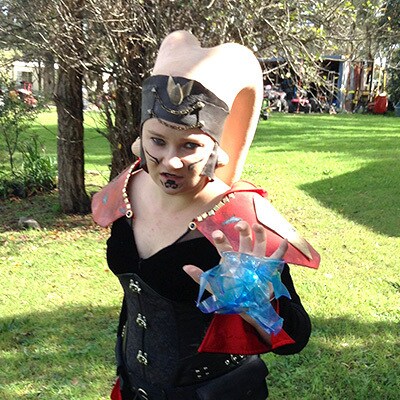 Allyshia Moore, Mandalorian Merc
/ The Dark Alliance
For Allyshia, it's not a question of if she'll go in costume to a midnight screening, but which costume she'll wear!

"It's a tough call between my Sith Twi'lek or my Mandalorian armour, although I think it'll be more comfortable in normal clothing rather than the full armour!"
She's looking forward to "more Sith action and seeing what Captain Phasma's role will be", and plans on seeing the movie at least five times ("True Star Wars fan here for sure!").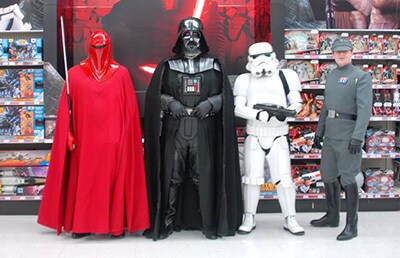 Peter Sims, Star Walking Inc. member
Peter will be going to a midnight screening dressed in full Emperor's Royal Guard costume, and is hoping to be blown away by what he sees in Star Wars: The Force Awakens. "I'm looking forward to saying at the end of the film 'I have to see that again'!"
(L-R Peter Sims, Chris Brennan, Dave Hankin and Darren Maxwell)
Star Wars: The Force Awakens opens in Australia and New Zealand on December 17.
James Jennings writes for the Australian editions of Empire and Rolling Stone and still has a substantial amount of vintage Star Wars toys stashed at his parents' house, much to their chagrin. He takes great joy in using his Han Solo in Carbonite bottle opener and can be found on Twitter at @JJTron2000.

More Star Wars Australia + New Zealand