Star Wars: The Force Awakens Fever Hits The Bathurst 1000
Stormtroopers, V8 Supercars, over 200,000 spectators and a legion of Star Wars superfans mixed it up at Australia's premier motorsport event on October 11.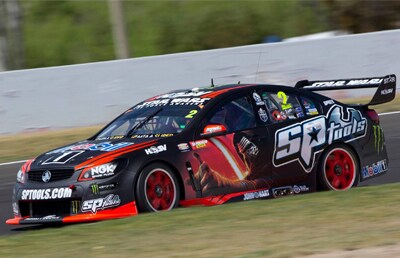 Debates over which of the Holden Racing Team's Star Wars-themed V8 Supercars is the coolest is not normally the kind of thing you'd expect to hear at the famed Supercheap Auto Bathurst 1000 touring car championship. But that's precisely what went down (repeatedly) at this year's packed three day event. The attendance of 201,416 fans was the second biggest in the race's history; the race was also broadcast to a whopping 275 million viewers across the world - so that's a mighty number of debates.
Image: HRT's dark side car.
Holden Racing Team unveiled the two striking Star Wars: The Force Awakens car liveries in the weeks leading up to the race: the 'dark side' #2 HRT VF Commodore driven by Garth Tander and Warren Luff (featuring Kylo Ren and a First Order Stormtrooper), and the 'light side' #22 HRT VF Commodore driven by Jack Perkins and Russell Ingall (featuring Chewbacca and Resistance pilot Poe Dameron).
To add to the sci-fi meets V8s coolness, the drivers also revealed some incredible The Force Awakens-themed helmets (the Kylo Ren helmet in particular being a true thing of beauty) and eye-catching white pit crew uniforms inspired by First Order Stormtroopers (efforts to secure one for ourselves, sadly, proved unsuccessful).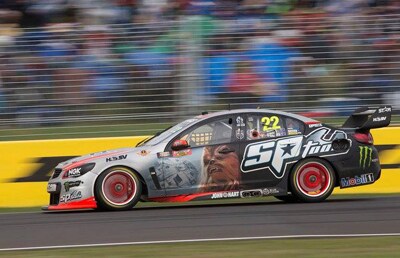 Both the light side and dark side HRT VF Commodores were on display at the event for attendees to inspect up close, and Star Wars fans – and judging by the continuous stream of people wanting their photo taken with the 501st Legion Stormtroopers in attendance, there were plenty – had a lot to be happy about: a purpose built Star Wars: The Force Awakens tent was on-site selling exclusive collectibles (including the HRT light side / dark side Biante Collector Car, available online), and a dark side vs. light side simulator where fans could drive a lap of Bathurst in the Star Wars cars.
Image: HRT's light side car.
With Mt. Panorama looming in the distance, the roar of V8 engines ringing in our ears and John Williams' classic Star Wars Main Theme running through our brain on loop (naturally) StarWars.com muscled through a garrison of 501st Legion Stormtroopers to chat to three-time Bathurst 1000 champion Garth (Darth?) Tander (he and driving partner Warren Luff impressively finished on the podium in 3rd place after starting the race in 22nd!), meeting a swathe of Star Wars fans along the way – including a random punter who appeared as a bounty hunter in Star Wars: Episode II Attack of the Clones!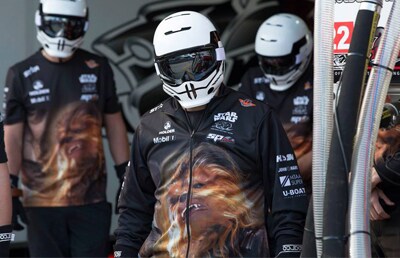 Image: The light side crew channel their inner Wookiee.

Garth Tander, Holden Racing Team
Were you much of a Star Wars fan prior to getting your very own 'dark side' car?
Yes, I was! More so of Episodes IV, V and VI, but Episodes I, II and III are on TV at the moment so I'm catching up on those ones now. Growing up I watched all of them, I loved it.
It must be a bit surreal to have Star Wars characters on your V8 Supercar then...
Yeah, it's every kids dream, isn't it? To be racing at Bathurst in a V8 Supercar on the Holden Racing Team and you've got Star Wars stuff all around you, and Stormtroopers as bodyguards... seriously, it's pretty cool!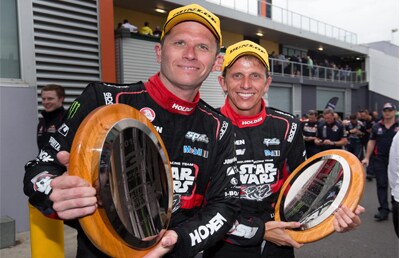 Image: Garth Tander and Warren Luff
You're driving the dark side car.
Are you more of a dark side kind of guy?
I didn't choose the dark side car, but I'm pretty happy I'm driving it. The Resistance are nice and they're good guys and all the rest, but, y'know, a bit of evil is good! The bad guys get away with more, and more people love the black car than the silver car!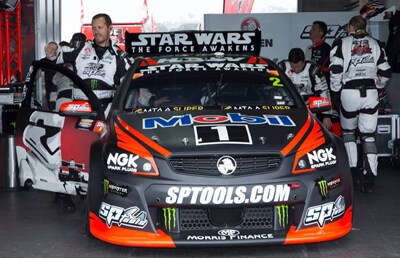 Having Kylo Ren and his red lightsaber,
it's an intimidating car – will people
get out of your way during the race...
It is intimidating, and they'd want to get out of the way, otherwise they'll have to deal with the dark side! I'll get Kylo Ren onto them...
You didn't think about changing your

name to 'Darth Tander' for the race?
I'm copping a lot of 'Darth Tander' on social media at the moment, which isn't a bad thing. I'll go with it, no problem!
And a word from some of the Star Wars fans in attendance
Scott, 25
First Star Wars memory: When I was at a very young age my father took me to see A New Hope with him at the cinema.
What do you think about Holden and Star Wars teaming up? It's the ultimate team-up to see Star Wars and V8 Supercars at Bathurst! It's unreal. I love the cars too. When I saw the dark side car I didn't think they could top it, but when they brought out the light side car with the silver on the front I thought it looked even better!
Are you more a light side or dark side kind of person? There's always a good villain in Star Wars - Darth Vader is pretty much the ultimate villain. Boba Fett is also another favourite of mine, and he's a sort of dark-ish character. So I'm going dark side!
Zeke, 13
First Star Wars memory: I've been a big fan since almost birth! I remember watching all six episodes with my family. My favourite movie is Revenge of the Sith and my favourite character is Luke or Anakin Skywalker. I'm looking forward to seeing Luke in The Force Awakens, it's gonna be awesome!
What do you think about Holden and Star Wars teaming up? I think it's awesome! It's a great combination. My favourite car is probably the dark side one.
Are you more a light side or dark side kind of person? Awww, probably the light? But the dark side in The Force Awakens looks pretty cool!
Amber Rose, 6
What do you like about Star Wars? Stormtroopers! I've seen all the Star Wars movies with my nanny.
Are you more a light side kid or a dark side kid? Dark side! 'Cause I like Stormtroopers! And car racing too!

Jess - volunteer medical officer
Are you looking forward to Star Wars: The Force Awakens? I'm very excited. I think the special effects are going to be amazing, and they've got a lot of the old characters back and we get to see the story continue, which is great.
Are you more a light side or dark side kind of person? I've been a fan of the light side from the start. They've got the good characters. Plus I always wanted to be a Jedi [laughs].

Michael Harrison - V8 Supercars and Star Wars fan
Are you much of a Star Wars fan? Yep. I was even in one of the movies.
No way! Which one? Star Wars: Episode II Attack of the Clones. One time I went out in the city and an agency approached me so I put my name down and heard back three months later and then I was in the movie! They approached me I guess because of my height – I'm 6'9" / 206 cm.
What did you play in the movie? I was a bounty hunter in the nightclub scenes. I got to meet Ewan McGregor and George Lucas – it was unreal. They gave us dummy scripts so that if anyone went out and told the story there would be all these different plots floating around.
Are you more a light side or dark side kind of person? Dark side. Being bad's good, isn't it? [laughs] They have more fun!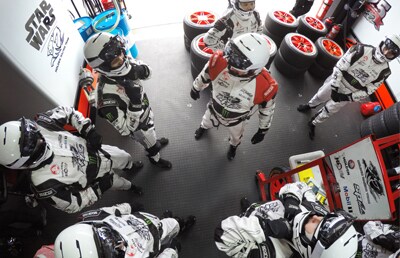 Image: A GoPro view of the crew

James Jennings writes for the Australian editions of Empire and Rolling Stone and still has a substantial amount of vintage Star Wars toys stashed at his parents' house, much to their chagrin. He takes great joy in using his Han Solo in Carbonite bottle opener and can be found on Twitter at @JJTron2000.
More Star Wars Australia + New Zealand