The Force From Down Under
A look back at a few of the Australian and New Zealand actors to visit a galaxy far, far away...
When George Lucas decided to set up shop at Fox Studios Australia in Sydney to shoot Star Wars: Episode II Attack of the Clones in 2000 and Star Wars: Episode III Revenge of the Sith in 2003, he made sure to take advantage of the world class acting talent located in our neck of the woods.
In no particular order, here are 10 of the more well known Australian and New Zealand thespians to make their mark in the Star Wars saga...
Leeanna Walsman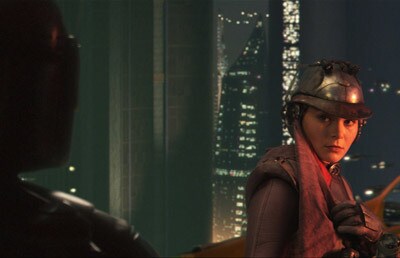 STAR WARS CHARACTER: Zam Wesell, a shape-shifting Clawdite bounty hunter tasked by Jango Fett to murder Padmé Amidala. She failed, leading to a significant upside (Amidala survived, allowing Luke and Leia to make their way into the galaxy), and a significant downside (Jango Fett proved he was the world's toughest boss by killing Wesell with a saberdart for not doing her job properly. Ouch).
KNOWN FOR: Sydney-born Walsman's TV credits include Heartbreak High, Love is a Four-Letter Word and the mini-series Catching Milat. Her big screen debut was in 1997's Blackrock, followed by Looking for Alibrandi in 2000... and then a certain episode of a space saga. Her last big screen outing was playing Maria in stand-up comedian Carl Barron's debut 2015 film Manny Lewis.
Temuera Morrison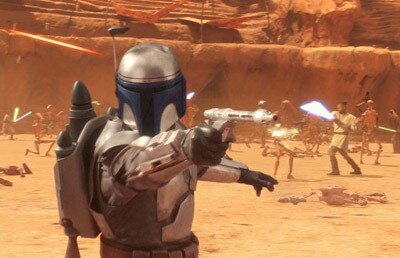 STAR WARS CHARACTER: Jango Fett, the feared Mandalorian bounty hunter from the planet Concord Dawn (which is a significantly cooler name than 'Earth').
Fett was the genetic template for the clone troopers – meaning he was used to seeing his own face a lot – and his very own mini-me (a little fellow you may have heard of named Boba). Sadly for Jango, he lost his head at the infamous Battle of Geonosis.
KNOWN FOR: Like his film son Daniel Logan, Morrison also graduated from New Zealand soap opera Shortland St. His big breakthrough came as Jake 'The Muss' in 1994's harrowing drama Once Were Warriors, its success leading to some Hollywood flicks that didn't fare so well (Barb Wire, The Island of Dr. Moreau, Speed 2: Cruise Control, Green Lantern). His most recent appearance in the Star Wars universe was providing the voice of Boba Fett in the 2015 Star Wars: Battlefront game.
Daniel Logan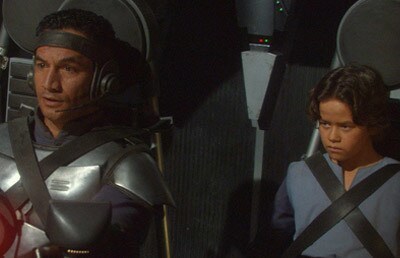 STAR WARS CHARACTER: Boba Fett (the 10-year-old version). Seems like a well-adjusted kid (for someone who's a clone), until he sees his pop's head removed from his body via a Jedi's lightsaber.
Then he grows up to score himself the galaxy's second coolest spaceship (Slave I; sorry but the Millennium Falcon is still #1), some cool Mandalorian armour and a rep as a feared bounty hunter that surpasses his dad.
Image: Temuera Morrison (left) as Jango Fett and Daniel Logan as Boba.
KNOWN FOR: Having just turned 13 when stepping into the role of the younger version of the galaxy's most feared bounty hunter during the shooting of Attack of the Clones in 2000, New Zealand Maori Logan had only starred in TV shows Shortland St. and Hercules: The Legendary Journeys prior to Clones. He reprised the role of Fett on The Clone Wars between 2010-2012.
Jay Laga'aia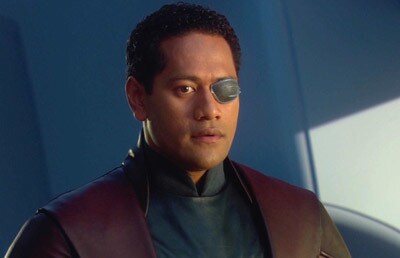 STAR WARS CHARACTER: Captain Typho (or, as his parents know him, Gregar Typho), the captain of the Royal Naboo Security Forces and also the head of security for Senator Padmé Amidala.
Rocking an eye patch that gives him a cool space pirate vibe, Typho goes from protecting Amidala to protecting Senator Jar Jar Binks after Padmé splits for Naboo with her boo/protector, Anakin Skywalker.
KNOWN FOR: The Auckland-born singer, actor, presenter, member of the 501st Legion and father of eight children is well known in Australia for his appearances on TV shows such as Water Rats, All Saints, Home & Away and, of course, Play School. Since hosting the Star Wars: The Force Awakens Fan Event with Harrison Ford in Sydney on December 10, 2015, Jay's been busy with kids' show Jay's Jungle.
Joel Edgerton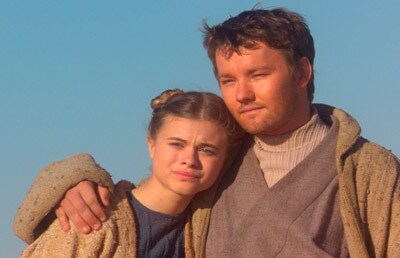 STAR WARS CHARACTER: Owen Lars, a stoic, hard-working guy who plays out the unglamorous but thoroughly necessary role of moisture farmer on the planet Tatooine (seriously, do you know how hot it gets there?).
His bae in Attack of the Clones is of course Beru Whitesun, who was played by Australian actress Bonnie Piesse, who was 16 at the time of filming.
KNOWN FOR: Since his breakthrough role of Will on TV's The Secret Life of Us in 2001, Edgerton has gone on to become one of Australia's most successful actors, having starred in huge films like Zero Dark Thirty, The Great Gatsby, Exodus: Gods and Kings and Black Mass. He's written The Square, Felony and The Gift (also directing the latter). Fun fact: Joel's brother Nash was also Ewan McGregor's stunt double in Attack of the Clones and Revenge of the Sith.
Jack Thompson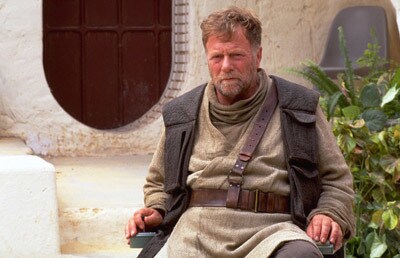 STAR WARS CHARACTER: Cliegg Lars - moisture farmer, husband to Shmi Skywalker and father to Owen (who of course goes into the family business). Loses his right leg and is confined to a hoverchair after trying to rescue Shmi, who'd been taken by savage Tusken Raiders.
Thirty went looking for her, four came back. Including Cliegg. But not Cliegg's leg, obviously.
KNOWN FOR: One of Australia's most beloved actors with a list of credits as long as a Star Destroyer: Wake in Fright, Sunday Too Far Away, The Club, The Man From Snowy River, Breaker Morant, The Sum of Us, Australia, Mao's Last Dancer and The Great Gatsby among his many films.
Rose Byrne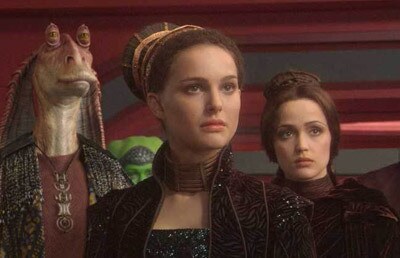 STAR WARS CHARACTER: Dormé, Padmé's handmaiden. Witnessed not one but two assassination attempts on Padmé's life, one of which took the life of fellow handmaiden Cordé. The killer? Zam Wesell, who gets her just desserts a little later on at the hands of a particularly well known Mandalorian…
Image: Jar Jar Binks, Padmé Amidala and Rose Byrne as handmaiden Dormé.
KNOWN FOR: Although Dormé was Byrne's first role in a big Hollywood film, she'd already made her name at home in Australian films and TV shows like Heartbreak High, The Goddess of 1967 and Two Hands. Since then an impressive Hollywood CV has emerged with roles in Troy, Insidious, Bridesmaids, X-Men: First Class, Bad Neighbours (and its upcoming sequel), Spy, Annie and 2016's X-Men: Apocalypse.

Bruce Spence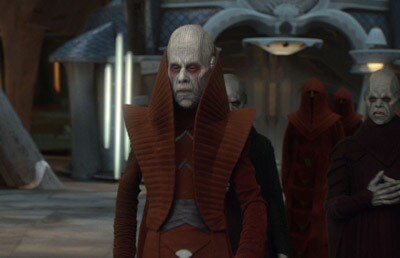 STAR WARS CHARACTER: Tion Medon, a Pau'an and the Port Administrator of Pau City on Utapau, put in the awkward position of having to hole up General Grievous and his legions of battle droids.
Also one of those aliens that looks like a bad guy (those teeth! Those eyes!) but is in fact a good guy. Never judge a book by its cover, Padawans.

KNOWN FOR: Although he made his name in Australia playing the Gyro Captain in Mad Max 2 and Jedidiah the pilot in Mad Max: Beyond Thunderdome, the 2.01m tall Spence is an Auckland-born New Zealander. In 2016 he's set to appear in Gods of Egypt, the new big budget fantasy film from Australian director Alex Proyas.
Matt Doran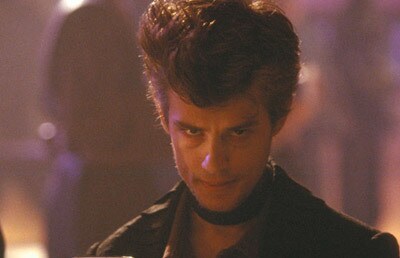 STAR WARS CHARACTER: Elan Sleazebaggano, a Balosar death stick dealer on Coruscant who makes the mistake of trying to peddle his questionable wares on Obi-Wan Kenobi ("You wanna buy some death sticks?" "You don't want to sell me death sticks." "I don't wanna sell you death sticks." "You want to go home and rethink your life." "I wanna go home and rethink my life").

KNOWN FOR: Probably best known at home in Australia as 'Damo' on Home & Away from 1991-1996, Doran popped up in small roles in The Matrix and The Thin Red Line before appearing as everyone's favourite Death Stick-pusher. Since then he's appeared on TV shows All Saints, The Jesters and Redfern Now and is set to appear in the 2016 feature film thriller Trafficked alongside Ashley Judd.
Christopher Truswell
STAR WARS CHARACTER: Voices for Rune Haako (Neimoidian official of the Trade Federation and Viceroy Nute Gunray's right hand man), Shu Mai (a female Gossam), San Hill (a male Muun), Wat Tambor (a male Skakoan) and an SP-4 (a droid used in the Jedi Temple). All but the latter where members of the Separatist Council who were slaughtered by Darth Vader on Mustafar.

KNOWN FOR: Any Aussie who watched TV in the late-'80s and early-'90s would know him as gormless neighbour 'Nudge' on sitcom Hey Dad..! (a role he reprised again in 1993 on The Late Show and again in 2003 in comedy film Ned). Truswell's last major role was in the 2010 series of crime drama Underbelly.
James Jennings writes for the Australian editions of Empire and Rolling Stone and still has a substantial amount of vintage Star Wars toys stashed at his parents' house, much to their chagrin. He takes great joy in using his Han Solo in Carbonite bottle opener and can be found on Twitter at @JJTron2000.

More Star Wars Australia + New Zealand