THE GALAXY GOES GLAM AT STAR WARS X COVERGIRL PARTY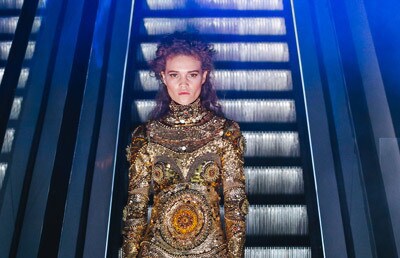 A (non-comprehensive) list of things we never thought we'd see under the one roof: Star Wars-inspired high fashion, lightsaber-wielding models, Australia's hottest rapper, people getting their make-up done in either light side or dark side mode and random roving stormtroopers mingling with fashionistas.
But not only did these seemingly random elements converge amid a retina-dazzling laser and light show that put most sci-fi films to shame, they actually gelled together into – Jedi's honour - the party of the year. And on December 3, 2015, we were there (#sorrynotsorry).
Although a garrison of inflatable stormtroopers outside Sydney's Powerhouse Museum let us know that this was indeed the party we were looking for, it wasn't until stepping inside the venue that our mind duly exploded like the Death Star (both versions 1 and 2). Giant Star Wars projections covered the walls, people were going space age at the Covergirl make-up booths and, most pleasingly, a life-size BB-8 was in the house.
And then the catwalk action commenced.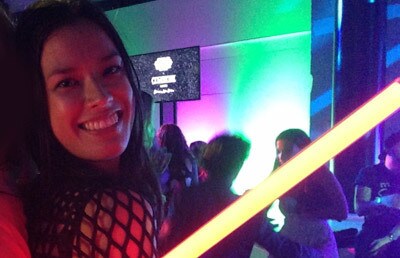 Descending towering escalators in a sea of smoke and light like angelic glam aliens – lit-up lightsabers in hand – were a bevy of models rocking a Star Wars-inspired capsule collection from hot Sydney designers Romance Was Born.
The bespoke pieces used characters and ships both old and new, but a gold sequin number inspired by C-3PO emerged as the clear crowd (and our) favourite.
Image: Samantha Bennetts
"I'm all about that one! I would buy that in a hearbeat," raved digital writer Samantha Bennetts after the parade. "I would wear that, it's so good." A hardcore Star Wars fan from way back ("My brother and I would dress up as characters and play with Star Wars LEGO and the Star Wars Nintendo game, which I still have - I might go home and play it tonight!"), Samantha didn't want us to be fooled by her all-black ensemble: "I'm wearing dark side tonight, but I'm definitely more light side. I'm a good person deep down, I'm just wearing black for effect!"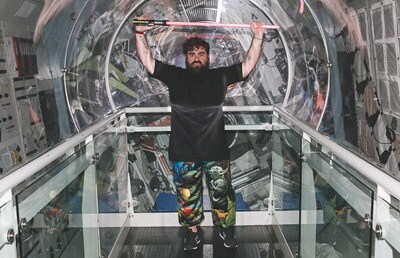 After the runway spectacle – which included a completely kickass lightsaber duel between a guy and a girl who both seemed particularly strong with the Force – I ran into Luke Sales (co-founder of Romance Was Born, along with partner Anna Plunkett) and asked how the collaboration came about.
"We were asked by Disney and Covergirl to design a collection inspired by Star Wars," says Luke. "We chose to do old school and new school Star Wars, just mashing it all up, and that's kinda really what our vibe is as a brand.

Image: Luke Sales

We were really excited by the idea because Star Wars has always been an aesthetic. I spent about three days going through all the old scenic art and the old and new movie posters. We were really spoiled because we got to see lots of new artwork from The Force Awakens before everyone else. I'm excited for the new movie, but I think everyone's excited – it looks like a real return to the original Star Wars vibe."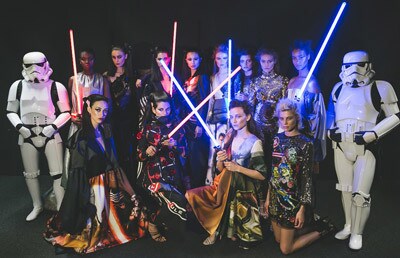 It also helped that Luke is a Star Wars fan from way back:
"Star Wars is something I've been into since I was a kid, and my name is Luke, so everything I had when I was a kid was Luke Skywalker!"
I ask why, then, he's proudly brandishing a red lightsaber in his hand?
"I dunno, I like red for some reason!" he laughs. "I'm more light side."
With hot Adelaide rapper Tkay Maidza ably rocking the crowd post-runway show, I got lost in the sea of several hundred revelers to talk to a few of the Star Wars fans in attendance...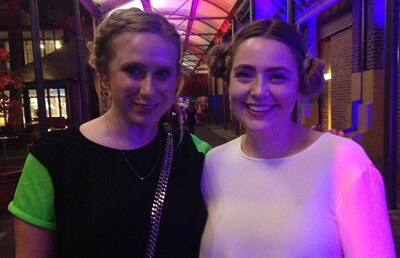 Madeleine Burke, web developer
Fan cred: "I saw the Special Edition films when I was a small girl – my dad took me when they came out, so it's been part of my upbringing. It's a family tradition to go see Star Wars! I've already got my Gold Class tickets for The Force Awakens. People seem to think that Star Wars is a boy thing, but there's definitely a lot of girls out there just as excited, if not more, about the new movie."
"My pug went as Leia for Halloween last year! She had clip-on buns and a white pillow case cut into a dress. She looked better than I do! [laughs]"
Image: Nella (left) and Madeleine Burke.
Thoughts on tonight's fashion? "Fantastic! That's the only reason I'd consider going dark side - because their outfits were pretty awesome. The music for the dark side is great too."
How'd you get your light side make-up look? "It's all about the highlight – cheeks on fleek! You've got to be about natural make-up and heaps of highlighter. Human disco ball. It's the 'no make-up' make-up, like 'I'm naturally beautiful, I don't need make-up – but I will shove 40 pounds of glitter on my cheekbones'! [laughs]"
Her party date: "Nella. She's my bridesmaid next year and I've put a clause on the wedding saying she must watch all the Star Wars movies prior to us getting married!"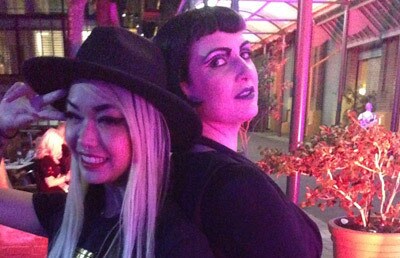 Amelia Arsenic, designer and musician
Fan cred: "I'm a huge fan of the original trilogy, and when they were filming the prequel trilogy in Sydney my friends and I would dumpster dive at Fox Studios looking for props. We found some Senate seats! They're not really very comfortable..."
Thoughts on tonight's fashion? "I think it's cool because they realise that Star Wars has an immense cultural impact across fashion and beauty and so many industries. It tries to make us all imagine and dream and bring out the fantastical in us, and that's what the link is to fashion and make-up."
Image: Amelia Arsenic (left) and Wendy.
Her party date: "Wendy, who got the dark side makeover."
Wendy says: "Why'd I get the dark side look? It's a long, long story, darling! [laughs] The look isn't dark enough, if anything. Would I go light side? Absolutely not – I've never been tempted by the light. I am very committed to the dark side, 100 per cent."
James Jennings writes for the Australian editions of Empire and Rolling Stone and still has a substantial amount of vintage Star Wars toys stashed at his parents' house, much to their chagrin. He takes great joy in using his Han Solo in Carbonite bottle opener and can be found on Twitter at @JJTron2000.
More Star Wars Australia + New Zealand