The Most Rewatchable Scenes From Star Wars: The Force Awakens
Star Wars fans, the time has come.
Star Wars: The Force Awakens is available now on Digital HD and will hit home formats on April 13, giving us all the chance to skip back and rewatch our favourite bits from the movie again and again and again and... well, you get the picture.
We've put together our Top 5 Most Rewatchable Scenes, followed by a selection of favourite scenes from The Force Awakens fans... (and beware: spoilers ahead).
5 Kylo Ren Freezes A Blaster Bolt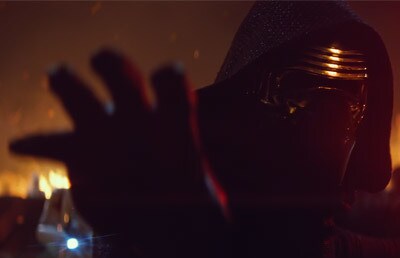 Kylo Ren is a bad guy who knows how to make a lasting impression: not only does he rock an imposing Darth Vader-inspired face mask, his dark side Force abilities are so strong that he can freeze a blaster bolt aimed directly at him in mid-air. You had us at crossguard lightsaber, Kylo.
4 Luke Skywalker Appears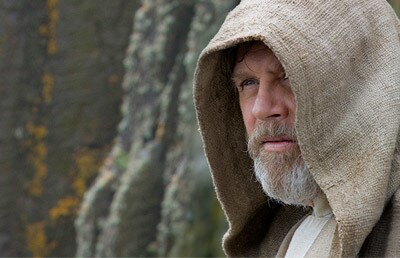 The spectre of Luke Skywalker hangs heavily over The Force Awakens. The galaxy is in peril, the dark side is gaining strength and Luke's been missing for many years. The final scene where Rey tracks him down and he faces her with haunted eyes is one of the most striking moments ever captured in the Star Wars saga.
3 Maz Kanata's Castle Menagerie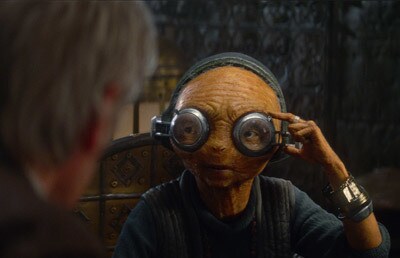 If there's a multiple pause-worthy bit in The Force Awakens, it's this: the opening tracking shot through Maz Kanata's castle where all manner of colourful aliens and robots are briefly glimpsed doing their thing. It's A New Hope's cantina scene on caffeine, and it requires many, many rewatches.
2 The Millennium Falcon Escape On Jakku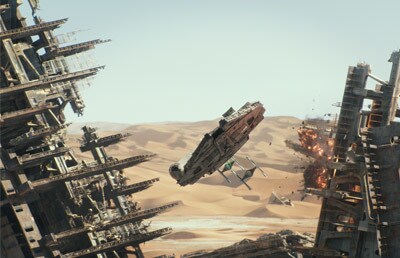 There wasn't a cinema audience on the planet that didn't cheer wildly once everyone's favourite "piece of junk" appeared on screen in The Force Awakens, and the subsequent sequence where Rey and Finn steal the Millennium Falcon and evade TIE-fighters via a Star Destroyer graveyard is Star Wars at its best.
1 Rey Uses The Force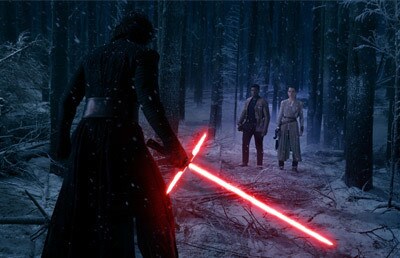 The greatest thrill of all in The Force Awakens may be witnessing The Force awaken in Rey: the bit where she performs a Jedi mind trick on a hapless stormtrooper is awesome, but best of all is the scene where she snatches the lightsaber from the snow to engage Kylo Ren in a lightsaber duel.
Serious goosebumps.
Fans Choose Their Most Rewatchable Moments From The Force Awakens
"When Rey and Finn and BB-8 run towards the Millennium Falcon. Nostalgia hit me like a bullet at that moment, I don't think there was one person in the cinema at the midnight premiere who didn't cheer."
Emily Clarke, Mandalorian Merc
"One of my favourite moments was FN-2199 yelling 'TRAITOR!' to Finn and then dropping his blaster and shield and wielding his baton. I too have the shield and baton as part of my arsenal!"
Glen 'Q' Rhodes, 501ST Legion
"When BB-8 with flicked the lighter up towards Finn as a 'thumbs up' - that was a classic moment."
Allyshia Moore, Mandalorian Merc/The Dark Alliance
"I almost cried when I saw Leia for the first time get out of the ship, because she's older and that means I'm older and life is short."
Dave Lipson
"I'm looking forward to pretty much any of the scenes with Kylo Ren again. Definitely a great character to watch - flawed, immature, insecure, feisty."

Susan Taylor
"I loved the bit at the beginning when Rey was scavenging in the big ship. The scale..... I love the scale of things...."

Kelly Buchanan
"I loved every Rey scene in the whole thing, but especially liked the bits where she first realises the power she's got. So when she's locked up but flips the mind-reader junk back on Kylo Ren and he looks all hurt about it, yay so much fun."

Alan Power
"The scene with Kylo and Papa Han. Knowing what's coming will make it all the more dread-inducing. I will turn to the sky - or living room ceiling - and unleash an almighty 'Noooooooo!' Then I'll cry."

Michael Adams
"That's not how The Force works."

Oscar Hillerstrom
"The final moment when Rey finds Luke. Very moving. It was really windy inside the cinema and heaps of dust blew into both eyes and nostrils so I ended up having really watery eyes and a runny nose..."
Emi Berry
"Mostly I can't wait to see Luke's face again. The final scene is spine-tingling because of the journey he must've been on to reach that point. And the fact it cuts to black before any dialogue just leaves me wanting more."
Christopher White
Star Wars: The Force Awakens is now available on

Blu-ray™, DVD and

Digital HD.
There's an Imperial tonne of bonus content including deleted scenes, featurettes and exclusive interviews.

* Digital bonus offerings may vary by retailer.
James Jennings writes for the Australian editions of Empire and Rolling Stone and still has a substantial amount of vintage Star Wars toys stashed at his parents' house, much to their chagrin. He takes great joy in using his Han Solo in Carbonite bottle opener and can be found on Twitter at @JJTron2000.

More Star Wars Australia + New Zealand